TL-LAB sound transmission loss measurement software
What is sound transmission loss?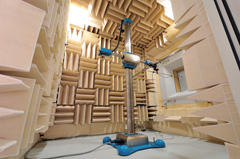 Sound transmission loss--also known as random incident sound transmission loss--is a quantity that indicates the sound insulation performance of a material with random incidence sound applied from all directions. Sound transmission loss is widely used as an evaluative value for construction materials such as wall panels and doors, and for automobile parts including doors and dash panels.
The measurement is implemented by setting a sample between two measurement rooms, a "source room" and a "receiving room", and comparing the incident power into the sample and the transmission power through the sample. Nihon Onkyo Engineering's measurement system provides support for the sound intensity method (JIS A 1441-1).
Multi-channel, automatic measurement for high accuracy and reduced effort
To reduce data variance, multi-point measurement for both the sound source room and the sound receiving room is essential for measuring sound transmission loss. Nihon Onkyo Engineering's system uses dedicated measurement software and microphone moving devices to measure the room sound pressure level at multiple points within the sound source room simultaneously. This also allows automatic measurement of the sound (acoustic) intensity distribution near the sample in the sound receiving room, thus reducing the amount of labor required.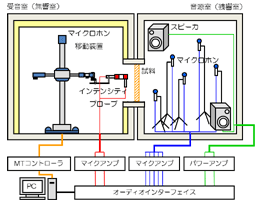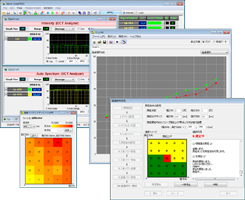 Specifications
Measuring method
Sound intensity method (JIS A 1441-1, ISO 15186-1)
Measurement frequency bands:
Vary depending on the reverberation room dimensions and intensity probe spacer
*When measuring a 1000 x 1000 mm sample with a 12 mm spacer, the frequency band is approx. 200 - 5 kHz.
PC
OS: Windows 10
Audio interface
Audio interface with characteristics that do not pose problems for acoustic measurement, particularly sound (acoustic) intensity
(Contact Nihon Onkyo Engineering for recommended equipment)
Microphone moving device
MT2000 Series, MT3000 Series (Both manufactured by Nihon Onkyo Engineering)
*Manual operation for multi-point measurement supported.
Others
Contact Nihon Onkyo Engineering for details