Postproduction studios (dubbing, editing rooms)
Postproduction studios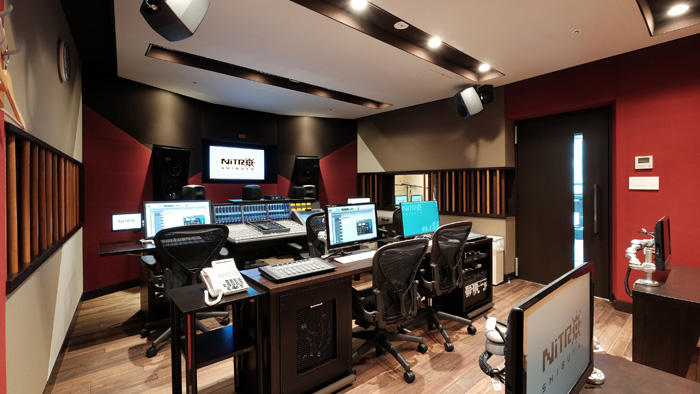 Nihon Onkyo Engineering has been involved extensively in the design and construction of various postproduction studios over the years, including studios for TV programs, commercials, movies, animation, games, events, and IT-related establishments. Our comprehensive plans range from designs for studios specializing in sound, such as dubbing studios, to video editing and preview rooms as well as all ancillary postproduction-related facilities such as equipment rooms and lobbies or lounges. Utilizing a total planning package that links all functions according to customer concepts and mode of operation from a variety of viewpoints, our construction proposals embody a comfortable postproduction environment with good cost performance.
Postproduction work and the role of the studio
Flow chart for TV commercial production In media terms, postproduction includes all production processes following the capture or recording of material at the shooting site. For example, the main production flow following the shooting of a TV commercial is as shown on the left. Various systems are used according to the production process, and a specialized studio for each application is required. With video editing, required studios include linear/nonlinear and offline/online editing rooms, Telecine/color-correction rooms, CG/VFX production rooms, and clip-recording (VTR) rooms, and with sound editing, required studios include dubbing studios and sound effect editing rooms. With movie editing, Foley studios, dubbing stages, and preview rooms are a few examples of required studios. In addition, studios are constantly evolving as a result of system equipment being added or replaced with the spread of new media formats and accelerating technological innovations in video and audio, and of the resulting changes in studio requirements.
Characteristics of a dubbing (MA) studio

In Japan, dubbing studios responsible for audio editing on completed videos in the video production process are called "MA" studios, where "MA" is an abbreviation of "multi audio." MA studios are tasked with incorporating music and sound effects, simultaneous sound recording, narration recording, and mixing. Acoustic designs for such studios call for a monitoring environment that is capable of matching video to sound and that takes into consideration the relationship between video display and monitor speakers as well as the various media being handled. For example, in television programming and movie production, the various viewing environments of the ultimate end users make it desirable to have monitoring environments within the production location that are suitable for those environments.
Characteristics of a video-editing studio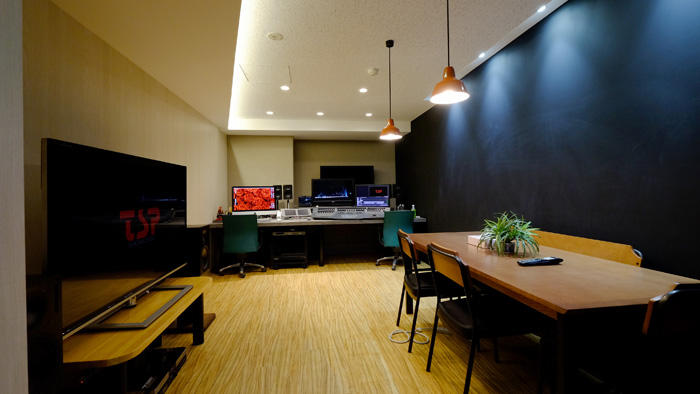 Linear editing rooms
When working with video clips, some customers may request large, integrated consoles offering systematic implementation of switching systems or other equipment.
Nonlinear editing rooms
Because many systems are software-based, workspaces can be made more personal with a higher degrees of freedom while remaining compact. In recent years, both working environments have seen increased demand for comfortable settings where long hours can be spent working in addition to layouts offering higher work efficiency.
Characteristics of a film production studio
After-recording studios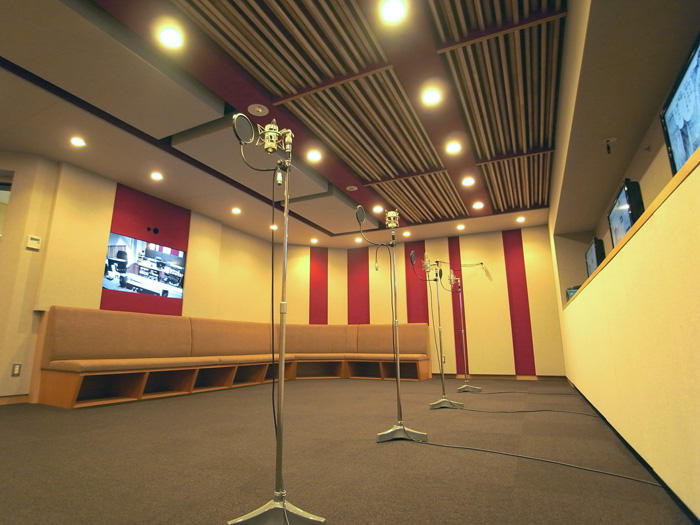 Unlike narration recordings, after-recording studios require a relatively large space with several displays installed to accommodate multiple people recording simultaneously to video.
Foley studios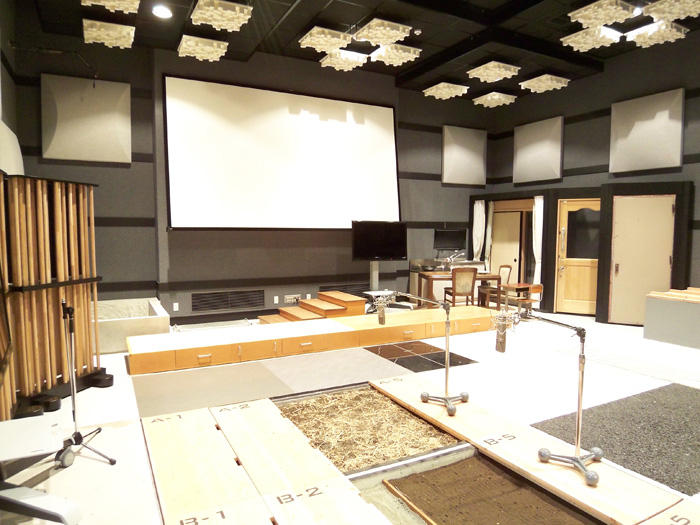 Foley studios are where various sound effects for use in movies are recorded. From gravel and sand to stairs and doors, a wide range of tools and equipment are utilized in order to create sounds for nearly any situation.
Dubbing stages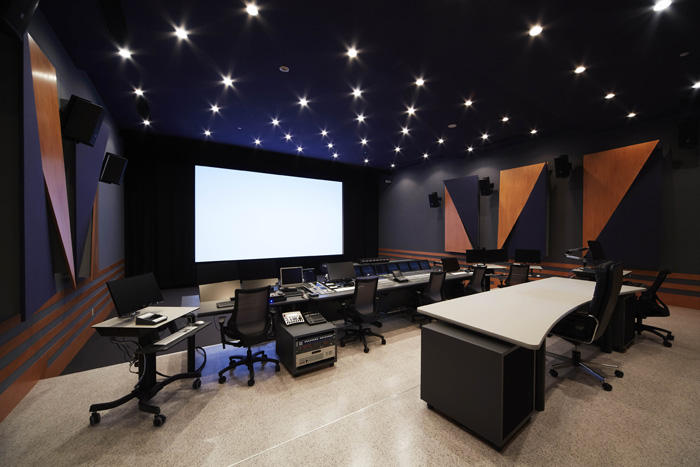 In order to perform final mixing of dialog, music, and effects, a monitor environment that can be used as a surrogate for the playing environment of a movie theater by precisely reproducing the sound field is required.
Screening rooms
Screening rooms call for a "luxury," cozy viewing space with a top-of-the-line sound field equivalent to the dubbing stage for checking the final versions of productions.