Innovative AGS sound field proposals from Nihon Onkyo Engineering
Introducing an ideal living space
AGS products can be found in a variety of acoustic spaces--from sound production sites such as recording studios and broadcast studios to rooms designed for enjoying music such as audio rooms and musical instrument practice rooms.
Acoustic rooms require different elements depending on how the room is being used. For example, in a studio that creates precise sounds, high resolutions, precise sound localization, and the ability to understand how a sound was processed by mixers and engineers are important. In an audio room, the information contained in the music source should be reproduced completely, so the spread and depth of the sound image are important, as is the need to perceive minute changes like the gradation in changes between large sounds and small sounds. It is also important that sounds are not distorted even at loud volumes, ensuring listeners do not become fatigued when listening for long periods of time.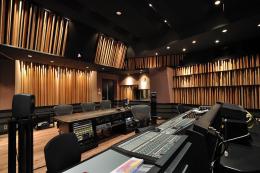 Usage example in recording studio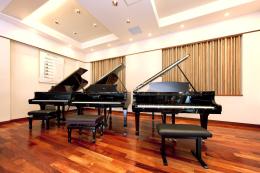 Usage example in musical instrument practice room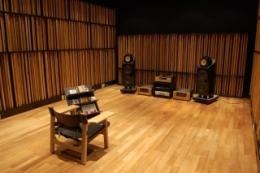 Usage example in audio room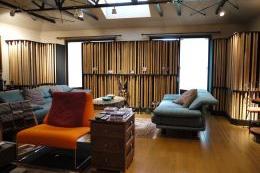 Usage example in audio room
At Nihon Onkyo Engineering, we employ AGS products to provide customers with rooms that sound good. Our setups have earned technical praise ranging from clearer high resolution and sound localization to a broader, deeper sense of sound for a more natural sound field. We have also received personal customer feedback including comments on reduced feelings of stuffiness and increased feelings of width within the room as well as reduced feelings of tiredness and improved comfort even after prolonged listening. We also opened our "Sound Laboratory"--a specialized listening room where visitors can experience the sound field produced with AGS products--in November 2009, and after welcoming a large number of visitors, most come away with similar feelings as those mentioned above. When we create spaces with good sound, we feel that we are creating an environment that is both comfortable and welcoming, whether it be a living space or a work space.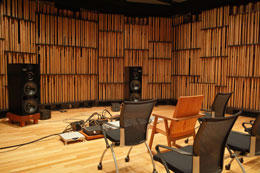 Sound Laboratory main listening room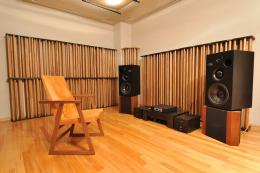 Sound Laboratory booth listening room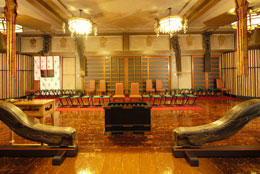 Temple with good acoustics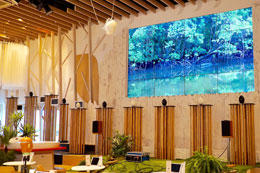 Cafe with good acoustics
We have also began introducing our products to places that are not directly related to sound. One such place is a bank designed with the goal of embodying a good sound environment similar to a forest. This "Good Acoustics Bank" was designed with the goal of creating a comfortable space not only for the workers but also the customers. It seems that the infinite width and comfort felt upon entering the Sound Laboratory left an impression on some of our visitors who came away feeling that working in such an environment could produce rich ideas with an increased ability to concentrate. Other rooms not directly related to music that have adopted our products include announcement booths, allowing announcers to speak naturally with no extra force for longer periods without getting tired.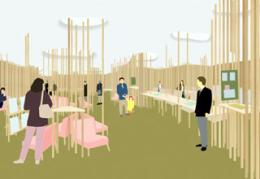 "Bank in Forest"
(Concept work provided by the Architecture
Lab)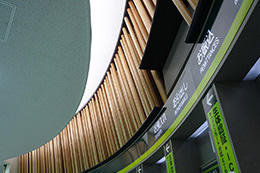 Echo Bank, the "Good Acoustics Bank"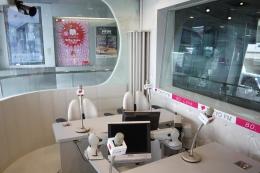 Usage example in announcement booth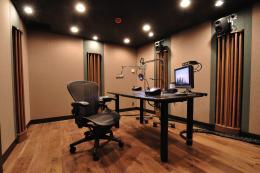 Usage example in announcement booth
The Sound Laboratory is open to not only audio fans but also visitors from all walks of life, although a common theme among visitors is the idea that "Good shops have good sound." Establishments that offer a better sound field are said to be blessed by more customer traffic and better sales. This seems to apply not only to the background music being played but also to the way footsteps and voices sound and to the soundscape when entering the shop. Some visitors also say that a good sound field in the passenger compartment of a car leads to better driving. At Nihon Onkyo Engineering, we believe that creating a good shop means first creating a good acoustic environment. We are dedicated to helping customers create the best establishment possible--from boutiques to restaurants to hotels--by ensuring good acoustics first.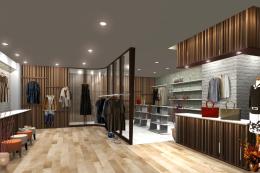 Boutique with good acoustics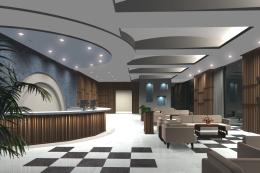 Hotel with good acoustics