Optional accessories
In addition to an enhanced NES monitor speaker lineup, Nihon Onkyo Engineering offers a speaker lifting system as an optional accessory for speaker setup requests for achieving a 5.1 ch surround sound configuration from customers in various fields, including broadcasting stations.
Ceiling Type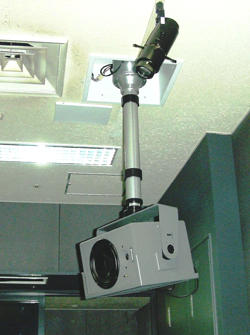 This electric speaker mount suspends speakers from the ceiling. With a maximum stroke of 60 cm, the position of the mount can be stopped anywhere along the stroke length using a remote control. This speaker mount allows users to obtain the optimum setting in situations where ITU-R arrangement for rear surround speakers will have a negative effect on operation. Speakers can be lowered to the ideal height when used for surround monitoring or raised up out of the way for storage. This newly developed device adopts the technology and mechanisms of Nihon Onkyo Engineering microphone moving devices used in anechoic rooms. The speaker mount's main member is made of aluminum, which allows for a reduced weight and less load on the ceiling.
Floor Type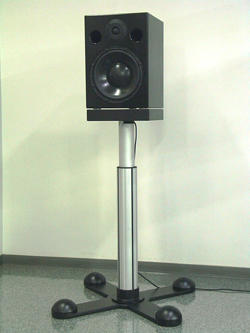 This is Nihon Onkyo Engineering's floor-type speaker mount. This product is effective with near-field surround monitor settings when added to existing monitoring environments. With existing 2-channel monitors, the mount can be used with the front channel behind the console and can even be arranged so that the speaker is lower than the console itself. The manual model includes a 35 cm max. spring-type stroke that allows the speaker to be set to any height using the clamp lever. The electric model includes a 46 cm max. stroke that allows height adjustment using the remote control.