Aircraft noise source discriminator
Automatic identification of "cover sounds" that affect aircraft noise measurement

The DL-SBM and SD-100 Aircraft noise source discriminator measure the arrival direction and level of multiple sound sources in order to automatically determine the presence of "cover sounds" (other noises overlapping aircraft noise) that can influence aircraft noise measurement. Such devices are useful when measuring a setting where aircraft noise and other sounds are measured at the same time and at the same level.
Advancements in technological needs for automatic aircraft noise measurement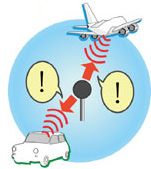 In recent years, the prevalence of offshore airports is increasing as a means to reduce the influence of unwanted sounds on onshore residential areas. When measuring the impact of these airports, measurement is generally performed in areas where the influence of aircraft noise is small, resulting in noises other than aircraft noise having an adverse effect on measurements. If a car passes by at the same time as an airplane, for example, it is important to determine which noise has the greater contribution in regard to the measurement. Nihon Onkyo Engineering developed its Aircraft noise source discriminator using "omnidirectional sound source detection technology" in order to accurately discriminate between sounds in automatic measurement.
Two "omnidirectional sound source detection technologies"
? DL-SBM omnidirectional sound source detection technology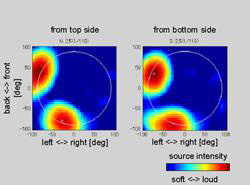 The DL-SBM device utilizes the beam-forming method using a spherical-baffle microphone to separate individual sound sources, allowing the position (arrival direction) and intensity of each sound source to be measured. Obtaining information such as the direction of arrival, direction of movement, and frequency characteristics of each sound source enables automatic determination of cover sounds and whether prominent sounds are aircraft noise or not.
? SD-100 omnidirectional sound source detection technology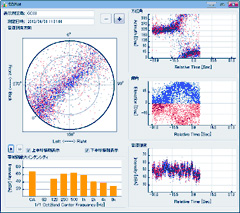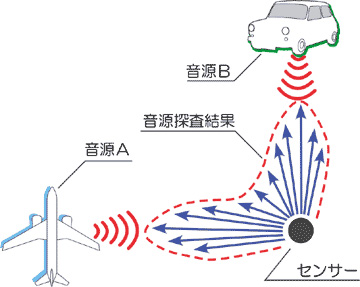 Adopting the C-C method using three sets of directional microphones placed facing each other, the SD-100 enables measurement of the arrival direction and sound source intensity of sounds detected by the sensor. The SD-100 identifies cover sounds by analyzing multiple sound sources for a dominant source of noise, and if no cover sounds are found, the dominant sound source can be identified as aircraft noise by analyzing the sound's arrival direction.
Installations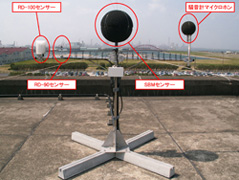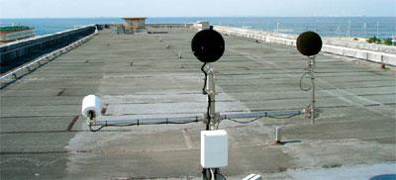 DL-SBMs are being used at measuring stations around Haneda Airport and Fukuoka Airport, and SD-100s have been introduced as identification devices at measuring stations around Itami Airport, Chubu International Airport, Naha Airport, Kadena Air Base, and Futenma Air Station. Combining the devices at any of these stations with a radio wave-based identification device (such as the RD-90 Aircraft Approach Detection and Identification Device or the RD-100 Closest Aircraft Approach Detection and Identification Device) allows for even higher accuracy aircraft noise measurements.