Contract/collaborative research
Promoting commissioned research and collaborative research work
Nihon Onkyo Engineering provides contract research services to offer customers solutions to a wide range of sound- and vibration-related problems by using our numerical simulation technology and knowledge through extensive experience in the fields of acoustics and vibrations.
We also provide collaborative research services for various customers, including universities, research institutes, automotive manufacturers, and railroad and electronics companies. Our collaborative research with universities includes examining fundamental theories and providing feedback on practical needs. In addition, we actively present papers and presentations at academic conferences as a means for contributing to our local society.
Case 1: Collaborative research and development
As an example, Nihon Onkyo Engineering is involved in collaborative focusing on a basic approach to look at the effects of random structure on wave propagation analysis. Other collaborations include a basic study of the difference method numerical calculation. The results of these studies and their practical application will be presented at international and domestic conferences and other forums, including at the Acoustical Society of Japan, the Physical Society of Japan, and the Japan Society for Simulation Technology.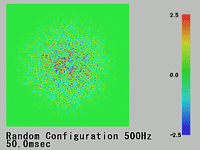 Wave propagation in a random field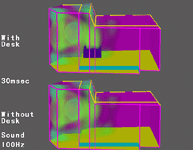 Results of difference method simulation
with and without a mixing console
Case 2: Collaborative research and development
When it comes to differentiating electronic products, controlling sound has become an important subject. Nihon Onkyo Engineering's collaborative research programs provide a wide range of services, including analysis and advice for reducing noise. On the other hand, sometimes our goal is to make sounds loader instead of quieter. For example, we use experiments and numerical calculations to provide solutions to making warning sounds for electric buzzers louder.
Boundary element method (BEM)
model for alarm sound generator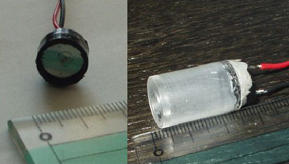 Alarm sound generator prototype
Case 3: Collaborative research and development
Nihon Onkyo Engineering's collaborative research and development includes basic studies on measuring technology for the acoustic characteristics of various materials such as wall surface materials in order to obtain the acoustic parameters for numerical calculations.
Measurement using mobile speaker system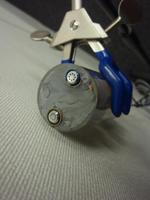 Microphones for impedance measurement