Audio relay vehicles
What is an audio relay vehicle?
Similar in function to an audio coordination room in a broadcasting station, relay vehicles are used for recording, mixing, and transmissions from an on-site location for live broadcasting or recording, including sports events such as baseball and golf or live music performances. Among audio relay vehicles, some vehicles are used exclusively for voice, requiring the construction of a monitor environment equivalent to that of a control room in a recording studio within the limited space of a narrow vehicle.
In a relay vehicle, it is impossible to secure adequate sound insulation in walls and a sound absorption space as with a studio, so design techniques capable of applying the most efficient acoustic methods in a limited space are required. In addition, the need to balance the load weight on each wheel and restrictions on interior materials and safety requirements of mounted equipment during vehicle operation mean sufficient consideration must be given to construction with expertise that is specifically geared toward relay vehicle design instead of architectural design.
Sound insulation and air-conditioning plans
Sound insulation construction
Relay vehicles are often parked outdoors with high noise levels, and although the vehicle's exterior steel paneling alone will not secure the required sound insulation, restrictions on vehicle weight prevent the application of further sound insulation reinforcement. Moreover, in order to ensure use with vehicle equipment such as doors, sound insulation will be unavoidably weaker in various places (namely openings). Furthermore, sound insulation measures are the most challenging design aspect when it comes to relay vehicles equipped with a power generator for a power supply, as the generator is the most common source of vibration.
Air-conditioning equipment
In order to ensure tranquility within the in-car monitoring room, sound-insulation and muffling plans that utilize air-conditioning equipment are essential. Preventing vibrations and noise from air conditioners (both indoor and outdoor units)--which are themselves sources of noise--from entering the monitoring environment is of course an important task, but countermeasures against crosstalk with external and extraordinary noises entering the duct are essential.
At Nihon Onkyo Engineering, we utilize a variety of tools including STRATI-ARTZ sound insulation simulation software and Noise Vision for finding weak points in sound insulation. These tools allow us to create a proper in-vehicle sound insulation and air-conditioning plan even for extremely noisy surrounding environments.
Audio relay vehicle in-vehicle sound field design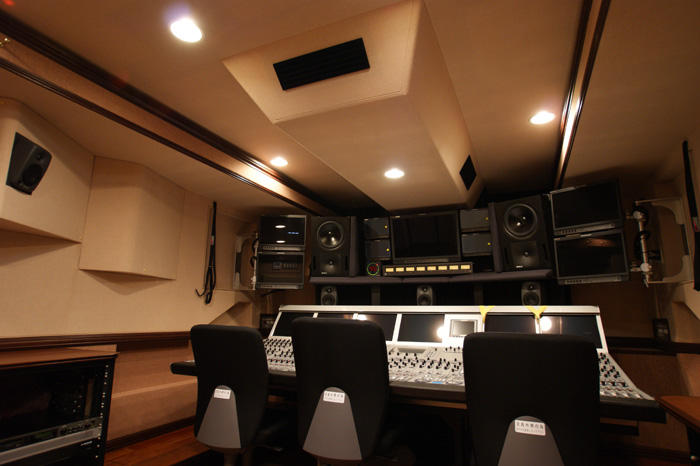 Due to the narrow space of audio relay vehicles, slight differences in in-car sound processing or speaker installation can appear more pronounced in monitor sounds compared with being in the studio, so a more-detailed sound field design is required. The extremely small volume of the space means greater susceptibility to standing waves at higher frequencies compared with studios. That is why we identify problems within the vehicle's sound space through in-vehicle sound field analysis using wave acoustic simulations, allowing us to achieve a balanced in-vehicle sound field design from the lower frequencies to the middle and higher frequencies. This process enables us to create a sound field that doesn't feel stagnant or oppressive even during prolonged working hours in a narrow space and that meets the needs of the user through a sound adjustment process that is shared directly with our customers.