Common sound-related concerns regarding offices
Long reverberation in reception and conference rooms make conversation difficult.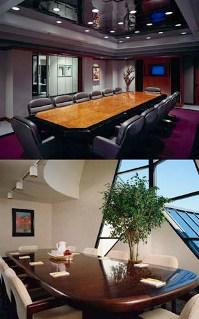 Inspection and measurement
The interiors of conference rooms generally use reflective materials such as wood grain-covered material and painted surfaces. The use of sound absorbing material is often non-existent. As such, when measuring the reverberation time in order to analyze sound propagation within the room, the reverberation time was found to be excessive.
Cause and remedy
Because of the lack of sound absorption within the room, installing sound-absorbing material on the ceiling will improve the situation in most cases. If possible, improving the sound field by installing sound-absorbing material such as fiberglass insulation panels on dispersed areas of the wall is recommended.
Details of meetings in adjacent rooms can be heard clearly.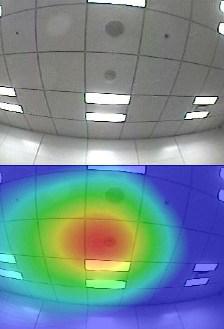 Inspection and measurement
The use of an integrated ceiling means partition walls stop just below the ceiling. The space above the ceiling includes many connected structures, resulting in the space acting as a type of return chamber.
Upon measuring the sound insulation performance between rooms, the partition walls were found to be ineffective in regard to sound insulation.
Cause and remedy
With an integrated ceiling, there are no partitions in the space above the ceiling, and sound leakage from air conditioning intake slots and gaps between lighting equipment are common. Laying fiberglass insulation on the ceiling at least 1 m around partitions is a simple countermeasure. However, partition walls with a sound insulation construction of D-45 or better and construction to the bottom of the ceiling slab is preferred when rooms will be used for important meetings.
Noisy in the VIP office.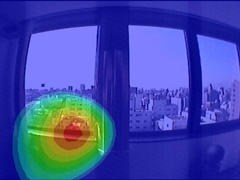 Inspection and measurement
Because the noise was observed as more remarkable on sunny days in spring and autumn, a sunny day was chosen for Noise Vision measurement. As shown in the image to the left, the sounds were being emitted from the corners of the window and joints.
Cause and remedy
The window sash was found to be exposed to direct sunlight, causing displacement of the mounting site due to expansion and contraction resulting from large temperature differences between components. This, in turn, led to impulsive sounds.