Acoustic Grove System -- ANKH-II
Specially designed for room corner installation to provide an expanded sound field and drastically improved sense of width and depth
The ANKH-II is an ANKH product designed specifically for placement in the corner of a room. Conventionally, sound was absorbed in the corners of conventional audio rooms and theater rooms, leading to absorption of lower frequencies accompanied by some improvement in distortion. This also caused a loss in the soundscape and the luster of the music, not to mention a narrowed sound field. ANKH-II products, however, drastically improve the width and depth of the sound field and increase the resolution between the low and high frequencies for drastic reductions in distortion. Because the sound is not absorbed, the energy of the music can be felt by the listener with no impediments, allowing for increased musical clarity. Moreover, the special corner design improves the "boomy" feeling through increased grip power of lower frequencies (patent/design registered).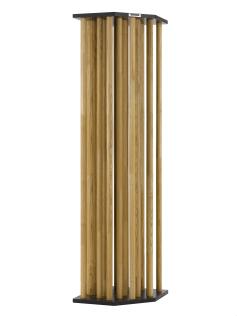 [List of shops with listening spaces]
Listen to ANKH products by visiting one of the stores linked to below.
Corner ANKH usage example
The standard size of ANKH-II products is 150 cm in height and 40 cm × 40 cm in floor size. However, various heights can be prepared upon request, and the ANKH-II products are also designed to allow for stacking. Custom colors are available upon request (separate custom color fees apply).