Noise-reduction consulting
Solutions for noise & vibration problems = Improvements in NVH performance
Particularly in the automotive industry, noise and vibration problems can be expressed in one word: NVH (noise, vibration, and harshness). Because of complex structures, identifying the sound sources and problem areas involves numerous hurdles. Nevertheless, improving the NVH performance directly leads to improvement in the value of a product.
For example, engineers in the automotive industry face a variety of concerns such as abnormal noise and vibrations of parts due to backlash while driving on a rough road, wind noise while driving at high speeds, muffled engine sounds while idling, screeching from the disk brakes, operation noise from electrical components, and strange noises due to thermal expansion and contraction of components.
However, each of these issues must have a cause, and each cause must have a solution. Nihon Onkyo Engineering is dedicated to working toward these solutions in whatever way we can.
Assessing the problem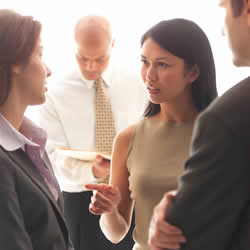 When Nihon Onkyo Engineering receives a request from a customer, the first thing to do is determine how best to approach the issue. This includes ranking the customer's problems in order of importance, looking at each through the lens of our own expertise, and then utilizing the customer's experience and knowledge to work together to discover the root tasks to address the concerns. Even though our customers' problems are diverse, we adopt and stand firm behind the customer's point of view in order to offer valuable consulting that meets the needs of the customer.
Solution resource 1: Simulations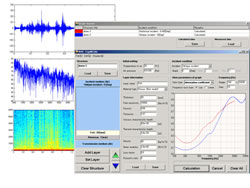 Numerical simulations are one of the most powerful ways to solve a problem. Boundary element method (BEM), finite element method, and finite difference method simulators are best for determining the optimal shape, position or configuration of acoustical materials. Meanwhile, Biot model simulators are used for determining the sound absorption and sound insulation performance of a single- or multi-layer material. Using an optimal combination of these simulators allows Nihon Onkyo Engineering to find the most efficient solution to solve the problems of our customers. (All of these simulators are developed by NOE.)
Solution resource 2: Experiment analysis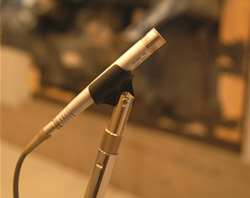 Another way to solve a customer's problem is through experiment analysis. Experiment analysis technology seems simple and unsophisticated at first glance, but few understand it clearly. In reality, the technology reflects a deep knowledge based on the experience and sense of the engineer. In a carefully planned experiment, the results are not only meaningful but contribute greatly to improving the accuracy of the simulation model. There are many variations in acoustic experiment analysis--from simple excitation experiments using hammering to analysis of vibration and acoustic transmission paths to identification and visualization of a noise source--each with its own benefits. For such analyses as well, Nihon Onkyo Engineering is dedicated to developing proprietary acoustic experiments analysis systems.
Case study: Evaluating the noise contribution of automobile interior material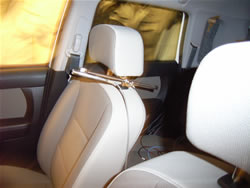 Today, when it comes to designing automotive interior material, material and multi-layered structure designs are widely based on the Biot model, and sound field simulations use statistical energy analysis (SEA). At the same time, transmission path analysis and (TPA) and contribution analysis are also widely used in the acoustic experiment analysis field. In addition to these methods, Nihon Onkyo Engineering combines acoustic radiation characteristic measurement using sound pressure / particle velocity probes (p-u probes) and other means to quantitatively evaluate the contribution of noise in the passenger compartment in order to propose countermeasures for creating a quieter and comfortable space.
Case study: Evaluating the source locations of abnormal noise in the passenger compartment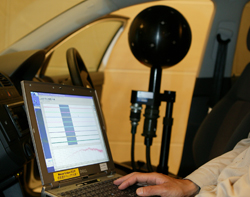 When driving on rough road conditions, sometimes you may hear strange rattling sounds coming from certain parts of the interior. These strange sounds are sometimes referred to as low-grade noise (as opposed to high-grade quietness) and can be a cause of complaint from drivers. Being able to specify where this noise originates from, and in turn eliminating the cause, will contribute greatly to improved vehicle quality.
Generally, such is an occasional event and therefore difficult to measure and to identify the root cause. However, using Noise Vision allows engineers to visualize and identify the source of the noise effectively.