Room acoustic measurement
Room acoustic measurement
A variety of measurements exists for understanding the acoustic conditions of a room, including measurements of reverberation time, echo time patterns, sound pressure level distribution, and speech intelligibility. Also, a variety of measurements exists for evaluating the acoustic performance when using electro-acoustic equipment.
Impulse response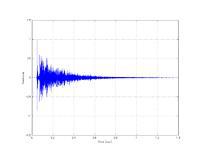 Expressed as a time-domain characteristics, the impulse response is the response obtained at the sound receiving point when a pulse sound is generated from a sound source. In order to calculate the acoustic parameters for room acoustic evaluation, the impulse response must be measured first.
Echo time pattern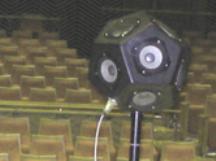 Ascertaining the echo time pattern (ETP) makes it possible to analyze the intensity and arrival time of reflected sounds in a room. The time difference between the direct sound and the reflected sound allows for an estimation of which part of the wall or ceiling has a strong reflection. The echo time pattern can be calculated from the impulse response.
Reverberation time measurement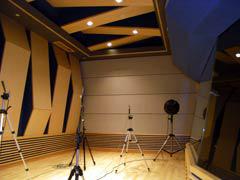 When a sound source signal is generated in a room, the time between when the sound is stopped and when decay to -60 dB occurs is called the reverberation time. Methods for measuring reverberation time include the interrupted noise method and the integrated impulse response method.
Room acoustic analysis using Noise Vision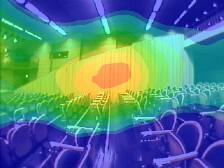 Reverberation time and a variety of other room acoustic indices are generally measured in order to understand how good or bad room acoustic is. However, if conventional measurement methods generate a remarkable reflected component, it may not be possible to clearly identify where the sound is reflected from.
To solve this, Nihon Onkyo Engineering uses its Noise Vision omnidirectional reflection detection system to display all areas with remarkable sound reflection on an image. Moreover, the obtained acoustic image on the picture can be used as a visible proof, which can be used as the materials for explanations to stakeholders who are not present during the measurement. This feature is allowing for easier understanding and facilitating determination of an appropriate countermeasure.