Single axis microphone positioning devices
MR Series microphone rotator & TT Series turntable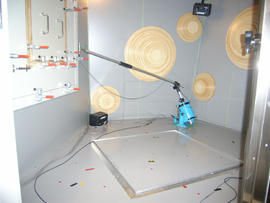 The MR Series of microphone rotators is used primarily for moving microphones in a reverberation room. In addition to the current tripod-type MR-1000, we also offer a space-saving type with smooth drive-section tilting. A redesigned TT-1000 turntable capable of supporting eccentric loads is also available.
MR-1000
The MR-1000 is generally used for measuring average sound pressure levels in a reverberation room. The conventional tripod-type MR-1000 is used in larger reverberation rooms. In situations with limited space and where consideration for items brought into the reverberation room or for obstacles and other objects is required, we recommend the MR-1000-S, set on a dedicated stand with moving casters for additional tilting mechanism.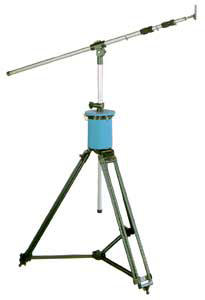 Conventional MR-1000 (tripod type)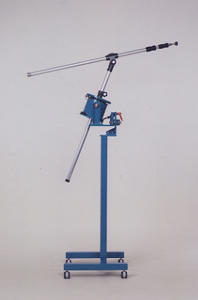 New MR-1000-S (with dedicated stand)
MR-1000 specifications
| | |
| --- | --- |
| Installation method | Floor, ceiling |
| Dimensions (max.) | H2000 (with boom horizontal) × D2490 (radius) mm |
| Range of movement (max.) | 0 to 350° |
| Max. movement (rotation) speed | 45°/sec |
| Stop precision | ±1 mm |
| Max. deflection | ±30 mm (with 1.5 kg load) |
| Microphone holder | 1/2-inch microphones |
| Weight | 15 kg or less |
| Cable length | 10 m |
| Controller dimensions | W300 × H200 (incl. 15 mm for rubber legs) × D380 (mm) |
| Power consumption | 100 VAC, 200 VA or less |
| Interface | GPIB |
| Remarks | Remote control available (optional) |
TT-1000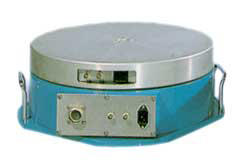 The TT-1000 can be used for measuring the directional characteristics of speakers and other objects. Capable of withstanding center loads of 150 kg, this turntable provides control over the continuous rotation of a large diffuser plate or other device inside a reverberation room.
Turntable application 1 - Rotating base for head-related transfer function (HRTF) measurement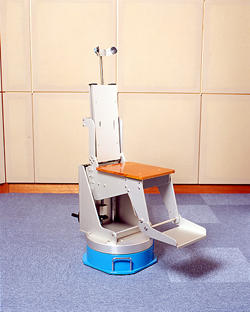 Use the TT-1000 with the dedicated chair for seating and rotating a dummy head or subject.
Turntable application 2 - Speaker turntable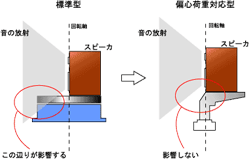 The eccentric load-type turntable is designed with consideration for avoiding acoustic reflection of the surface.
TT-1000 specifications
Installation method
Floor
Dimensions (max.)
W402 × H170 × D402 mm
Range of movement (max.)
0 to ±9999.9°
Max. rotation speed
60°/sec
Stop precision
±1°
Weight
30 kg or less
Cable length
10 m
Controller dimensions
W300 × H200 (incl. 15 mm for rubber foot) × D380 (mm)
Power consumption
100 VAC, 300 VA or less
Interface
GPIB
Remarks
Remote control available (optional)
Load at center: 150 kg
Continuous rotation option available