Message from the Management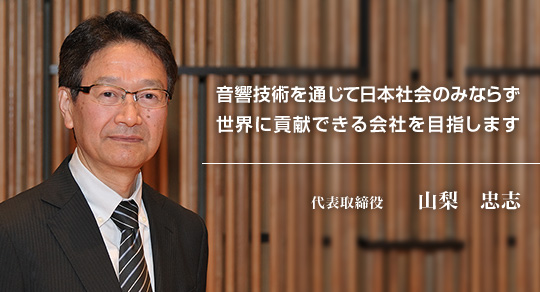 For five decades and more, since 1974, Nihon Onkyo Engineering has been developing the business related to "Sound". Our key competences are making, utilizing, controlling, visualizing, and identifying the various sounds and its environment. We are a strong organization where the various acoustic engineers working together and utilizing outstanding technologies and development capabilities to create "acoustic space and environment", "sound and vibration engineering and consulting", "measurement system of acoustic materials", "automated aircraft noise measurement system", etc. These products and services have been well received by many customers.
The area of products and services which we are offering is a niche field. However, kindly I would appreciate our customers who have been supported us, as the fact that Nihon Onkyo Engineering could have been acknowledged in the market gradually where the society surrounded by sounds.
We must be sensitive to the changes in the world. Customer's needs changes quickly as well. We do communicate with customers more carefully and listen to the customer's opinion sincerely, and provide products and services that accurately meet customer's needs.
Furthermore, we seek to be the only one company, "Company that can contribute to the world through acoustic technology", by acquiring professional knowledge and experience further so that we can respond to the needs of customers all over the world.