Message from the Management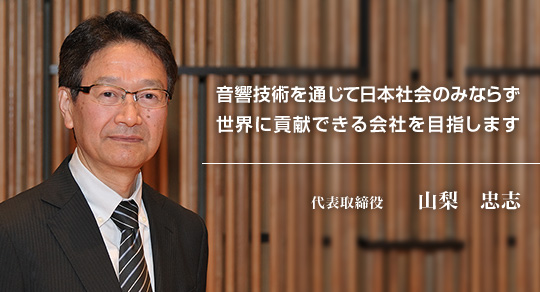 Our Vision and Mission
We support our customers with our expertise and comprehensive capability in wide variety of fields connected to "sound". "Sound" as our keyword, we are a group of engineers who provide the highest-quality products and services like design and construction of sound spaces such as studios, listening rooms and acoustic laboratories, measurement and evaluation of sound and noise, and consulting. Our organization is not merely patchwork of various departments. We are proud of our exceptional flexibility to carry out the projects by organizing the most knowledgeable engineers from wide variety of fields. Even if the goals of our customers vary, a common objective is 'to solve problems of "sound"' and to make a rich society come true by utilizing or controlling "sound". Taking all our power that we have and looking at our customers' viewpoint, we provide the best products and services to truly support their needs.
Contributing to society through creation of new value
In these times when social situations are constantly changing quickly and the needs of customers greatly change accordingly, the importance as an organization is to continue to keep developing, to always create new values and to go on providing them. We think the source of creating new value is having excellent technical/developmental skill within ones special field and the sensitivity which enables us to understand exactly our customer's needs through communication. "Sound" is a very small and deep field. Working hard, being able to create and to provide needed value to our customers, we at Nihon Onkyo Engineering Co., Ltd. 'contribute to the society through our technology'.