Flight path measurement
Three approaches to flight path measurement
Acoustic vector method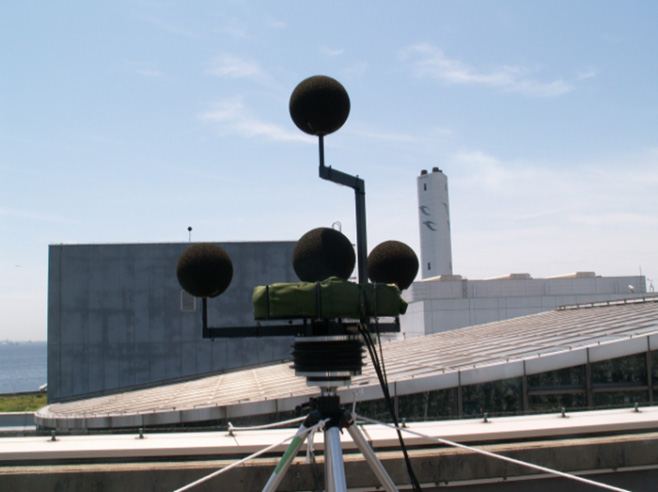 In the acoustic vector method, as with technology used in acoustic aircraft flight path measurement systems, the arrival vector for noise emitted by aircraft is calculated in order to determine the flight path. Sensor installation is easy, allowing for flight path measurement to be performed wherever aircraft noise can be adequately measured. In addition, vector sensors and data-recording devices support long-term data recording, making path measurement possible even over several months. As such, this system is useful for supplementing less frequently used flight paths.
Radio wave method (some usage restrictions apply)
Nihon Onkyo Engineering has put into practice a method of measuring flight paths with passive SSR technology. One of our achievements is obtaining flight path information by using this technology upon request from the Ministry of Land, Infrastructure, and Transport.
*Passive SSR technology: Aircraft flight position is calculated by receiving both the radio waves of secondary surveillance radar (SSR) from airports and the radio waves emitted by the aircraft in response to the radar. Because passive SSR technology uses radio waves emitted by aircraft, it is subject to usage restrictions per the Wireless Radio Act.
Visual systems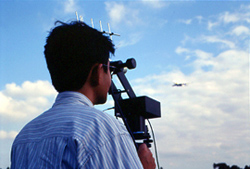 In visual systems, flight routes are determined using the azimuth of two points simultaneously and triangulation for measuring the elevation angle. In order to ensure accurate and simple flight path measurement, Nihon Onkyo Engineering has developed a dedicated measuring device (a simplified theodolite) that has been used for flight route analysis near numerous airfields (both private and military). Simplified theodolites include a telescope and an encoder that allows the direction (azimuth and elevation) in which the telescope is pointed to be read by a PC. As the person performing the measurement presses a switch while looking through the telescope to visually track the aircraft, the azimuth and elevation angle (with a resolution of 0.1 degrees) as well as the measurement time are recorded on the PC. By conducting such measurements at two points and then comparing that data, a continuous flight wake can be obtained. This method can be used to measure flight paths within a range of 10 to 20 km and can be used at night by targeting the lighting on the aircraft.
3D flight path visualization

*Example flight path obtained through visual survey
Displaying measured wake data superimposed on a map allows for an easy-to-understand visualization of the actual flight path. Comparing the tracked data with actual operation data makes it possible to display visualizations according to such factors as aircraft model, departure/arrival destination, and flight purpose. In addition, analyzing the slant distance from a given point--for example, from a point of noise measurement--allows the relationship between the noise level and the slant distance to be obtained. This basic data can be used for noise prediction simulations and for aggregating flight path variances. In recent years, requests for displaying flight paths on a terrestrial globe (such as Google Earth) and on GIS software have increased. Flight path data can also be converted and provided in a file format that can be read by such geographic information systems (three-dimensional geospatial information data format: KML, etc.).