Home
>
Case study
> SoundGraphy helps Minori Industry to present the effects of soundproofing panels
SoundGraphy helps Minori Industry to present the effects of soundproofing panels
Minori Industry, which is an automotive interior supplier located in Okayama prefecture and is manufacturing soundproofing panels for industry, with utilizing their technology developed with automotive development, has started to use SoundGraphy to present the effect of soundproofing panels.
Background of this project and advantages of SoundGraphy is introduced here.
SoundGraphy: acoustic camera on your hand

1. Issues
Difficult to make customer understand the effect of soundproofing panels
It is difficult for customers to understand the effect of soundproofing panels with only showing the sound pressure level measured with sound level meter.
Sometimes the effect of soundproofing panels is not found clearly on the measured value. For such case, it is difficult to explain the advantage of soundproofing panels for customer.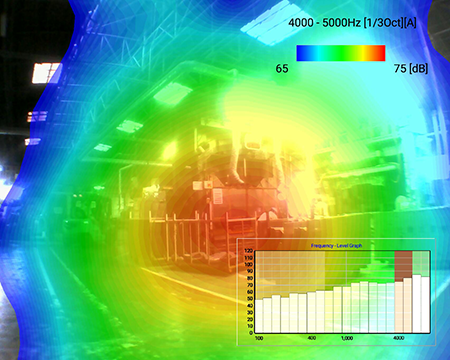 2. Solution
Visual presentation with acoustic camera
Minori industry wants to give a visual demonstration that anyone can understand immediately, with showing the effect of soundproofing panel with both value and visual image.
Minori industry needs to explain noise phenomena visually that is sometimes difficult to understand what was happening.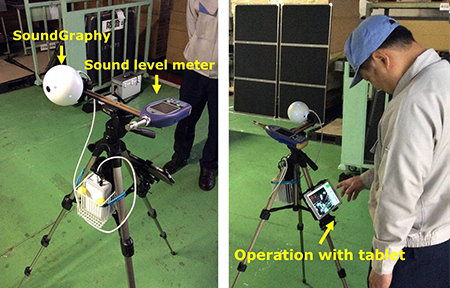 3. Selection of acoustic camera - to be able to bring to anywhere and use easily
It is required to be lightweight and compact, because usually they bring lots of soundproofing panels to customer site.
It is necessary to operate with battery. Sometimes AC power is not available at site.
It is required to set up by a person and to be able to move easily. Minori Industry wants to respond quickly according to customer request.
They found that SoundGraphy is the best solution to fulfill all requirements.
4. Result
Inquiries and sales has been increased with strengthen customer communications utilizing SoundGraphy
Improved presentation to customers
・ Visualization of the sound is clearly showing the effect of the soundproof panel.
Improved customer trust
・Proposal of further noise countermeasure becomes possible as well. In this example, the reflection from ceiling can be set as the next target for further noise reduction.
Sale has grown with increasing inquiry on soundproofing panels.