Other acoustic consulting
Consulting for music halls/theaters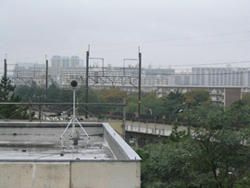 Nihon Onkyo Engineering provides acoustic consulting services suited to the purpose of the hall working with the owner, the design office, and the construction company. With a basis on acoustic design technology, our comprehensive services range from preliminary measurement to acoustic inspections at the basic design and design implementation stage, acoustic construction management during construction, and acoustic measurement for acceptance upon completion. The first step is determining the sound pressure level of background noise and planning the necessary sound and vibration insulation structure according to the actual conditions.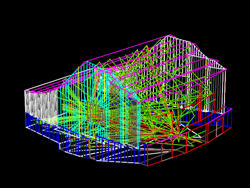 Next, in the sound field planning stage, the target reverberation time is determined suited for the hall's size and objectives, and then selecting the interior finish, assign the sound absorbing and reflection, investigating the diffuser shapes, and so on.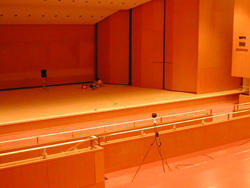 During construction, we perform intermediate acoustic measurement to verify that the determined sound specifications have been met and, if remediation is necessary, to determine any corrective steps and perform any follow-up measurements after taking the appropriate countermeasures. Acoustic measurement is performed again upon completion to verify the final acoustic performance.
Consulting for gymnasiums and auditoriums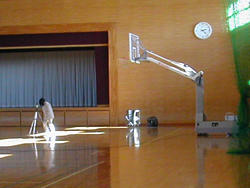 Gymnasiums are generally used for indoor sports and exercise. As such, hard-finished floors are used so that the material is not damaged when struck by balls or athletes. These surfaces cause long reverberation times. For this reason, Nihon Onkyo Engineering strives to devise countermeasures to reduce reverberation without hindering the operability of the location in any way.
Consulting for conference rooms and classrooms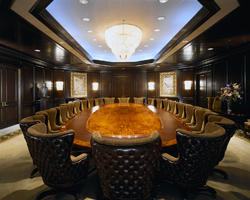 Nihon Onkyo Engineering's plans for conference rooms and classrooms focus on solving acoustic problems, such as luck of clearness of speech due to the echoes, as well as acoustic leakage into or out of corridors and adjacent rooms. In addition, differences in specifications can be confirmed through actual listening from room acoustic simulation results.
Consulting for musical practice rooms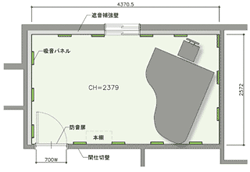 Nihon Onkyo Engineering offers total consultation services from acoustic designs and other designs for buildings to construction and acoustic tuning. Planning the practice room involves not only the room acoustics but also sound and vibration proofing that considers the effects to and from the surroundings. By predicting the genre and magnitude of generated sounds, Nihon Onkyo Engineering is able to offer appropriate soundproofing and vibration isolation specifications.