Unwanted sound/vibration measurement and consulting
As Your Partner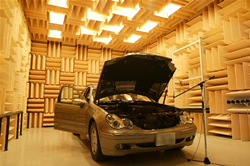 Especially automobiles and electronics, there is a strong relationship between customer satisfaction and reducing unpleasant noise like buzzing, squeaking, and rattling. However, such noise and vibration problems become more difficult to resolve day by day, and the amount of time for solving these problems is limited. Using Nihon Onkyo Engineering's facilities and unique measurement and simulation technology, together we can develop various solutions for reducing such noise. We are working for our clients as a trustful partner.

Acoustic material characteristics measurement
Nihon Onkyo Engineering is an expert to develop and evaluate soundproofing materials and structures.

Noise-reduction consulting
Nihon Onkyo Engineering provides a wide variety of solutions for automotive and electronics noise and vibration problems.

Contract/collaborative research
We provide a wide-range solution for the various problems related to sound and vibration.