Special microphone positioning devices
Utilizing site-specific ideas -- Specialized traverse devices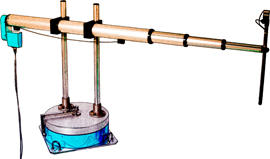 At Nihon Onkyo Engineering, we are constantly adopting state-of-the-art technology in our quest to create products that precisely meet the needs of engineers at a given measurement site.
MRS-1 & TT-1000S-C traversing/rotating chair for head-related transfer function (HRTF) measurement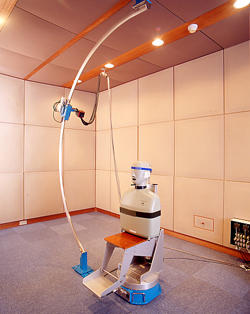 Combining a speaker mounted on a traversing 1-axis arc-type device with a dummy head and test subject on a rotating chair makes it possible to set a sound source at any position horizontally or vertically around the head. This enables automated measurement of all positions along a circumference for head-related transfer functions (HRTFs).
MT-3000 TYPE S-T3 traversing device for air-flow measurement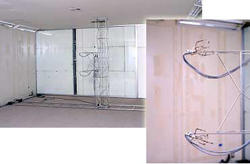 The MT-3000 TYPE S-T3 is designed with a truss structure that suppresses turbulence (along the vertical axis) when measuring slight wind velocity, and a running rail positioned at the lowest point, regarded as the lower limit of the driving mechanism.
The device can be installed with one or two 3D wind velocity gauges.
MT-2000 Z-S featuring a multistage screw-type expansion/contraction mechanism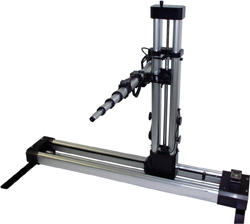 The MT-2000 Z-S is an MT-2000 device equipped with a compact telescopic mechanism. This device is suitable for measurements and other tasks involving smaller equipment.