Alphas-LAB sound absorption coefficient measurement system in the reverberation room
What is the sound absorption coefficient measured in the reverberation room?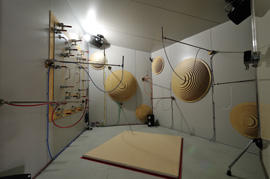 The sound absorption coefficient by reverberation room method is a popular means of evaluating the sound absorbing property of an acoustic material with random incident sounds from whole directions. This method is considered as expressing the average sound absorbing performance of a material and is widely used in acoustic designing of concert halls and for evaluating the sound absorption performance of various materials, including automotive interior materials and building materials.
Measurement system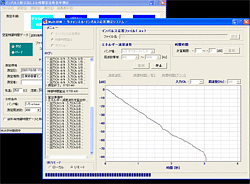 The proposed system is complying with JIS A 1409. In addition, our system's reverberation time measurements not only support conventional noise interrupting methods but also impulse response integration methods, standardized in ISO 354. Moreover, our system is able to directly handle ultrasonic range measurements required for the scale model experiments. The integrated impulse response method offers very good reproducibility and measurements can be completed very quickly, because the averaging procedure can be reduced compared with the noise interrupting method.
Simultaneous multi-channel data acquisition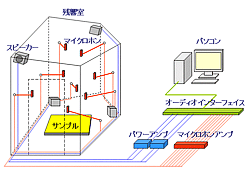 This system is capable of multi-channel measurement. Simultaneous measurement using multiple microphones allows for reduced time and effort needed for moving microphones as well as decreased influence of changes in temperature and humidity over time.
Specifications
Measurement method
Interrupted noise method (JIS A 1409, ISO 354), Integrated impulse response method (ISO 354)
Number of input and output channels for multichannel measurement
Output channel: 32 (max.)
Input channel: 32 (max.)
Audio interface
Suitable model shall be selected. Contact with Nihon Onkyo Engineering for recommendation.
Measurement frequency range
Lower frequency limit: Depends on size of reverberation room
Upper frequency limit: Depends on sampling frequency of audio interface
PC
OS: Windows 10