Acoustic material characteristics measurement systems
Developing, evaluating, and designing sound insulation materials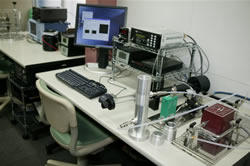 Various sound absorption and insulation materials are used to make industrial products and electric appliances quiet. Evaluating the acoustic characteristics (sound absorption and insulation characteristics) requires measurement system that uses acoustic impedance tubes or a coupled reverberation room and anechoic room. Moreover, developing material with the desired acoustical properties requires software to predict the acoustic properties with material parameters. Nihon Onkyo Engineering offers measurement systems and prediction software for evaluating and predicting acoustic performances.

STRATI-ARTZ Acoustic characteristic prediction software
STRATI-ARTZ predicts the sound absorption and sound insulation performance of poro-elastic material. This software can be used to predict the acoustical properties of multi-layered structures in various sound incident conditions.

AbLoss sound absorption coefficient and sound transmission loss measurement system
System for measuring sound absorption coefficient and sound transmission loss for small samples accurately.

WinZacMTX impedance tube measurement system
WinZacMTX works for measurement of the sound absorption under normal incident conditions using the impedance tubes. Moreover, we are delivering WinZac 8 which allows to use over wide frequency span compared with conventional systems.

AirReSys flow resistivity measurement system
AirReSys works for measurement of the flow resistivity, which is the most important parameter for determining acoustic characteristics. The system is designed according to ISO 9053 and provides accurate measurement with 0.5 mm/s air flow velocity.

Torvith tortuosity and characteristic length measurement system
Torvith works for the measurement of the macroscopic complexity of the porous structure. This system was developed in collaboration with University of Leuven (KU Leuven) in Belgium and uses ultrasonic sensors.

Elastic moduli measurement system
This system measures the elastic moduli, loss factor, and Poisson's ratio of poro-elastic materials. Measurement systems capable of measuring both Young's modulus and the shear modulus are available.